2007 American Silver Eagle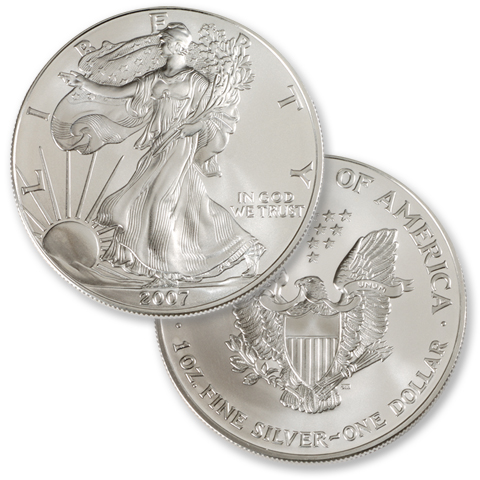 GEM Brilliant Uncirculated 2007 Silver Eagle
These gorgeous coins are minted at West Point and contain one ounce of 0.999 pure silver. These are legal tender silver dollar coins authorized by the United States government. Makes an excellent (and affordable) gift!
These coins are the "regular bullion issue" and do not carry a "W" mintmark like the special burnished uncirculated issues or the special proof (mirror finish) issues. There is no mintmark on "regular issue" uncirculated silver eagles since the government produces these coins mainly as silver bullion for investors rather than coin collectors. However, the fact that the coin is one of the most beautiful coins ever minted has elevated it's status from a bullion coin to a highly sought after collectible.
---
Copyright © 2010, Silver Eagle Coin Company
All rights reserved.